​​Flavor-Packed Chipotle Chicken Salad – A Heart-Healthy Meal Prep Recipe
Apr 13, 2023 by Kelly Ryan
This recipe features an easy chipotle salad dressing that doubles as a marinade for the chicken.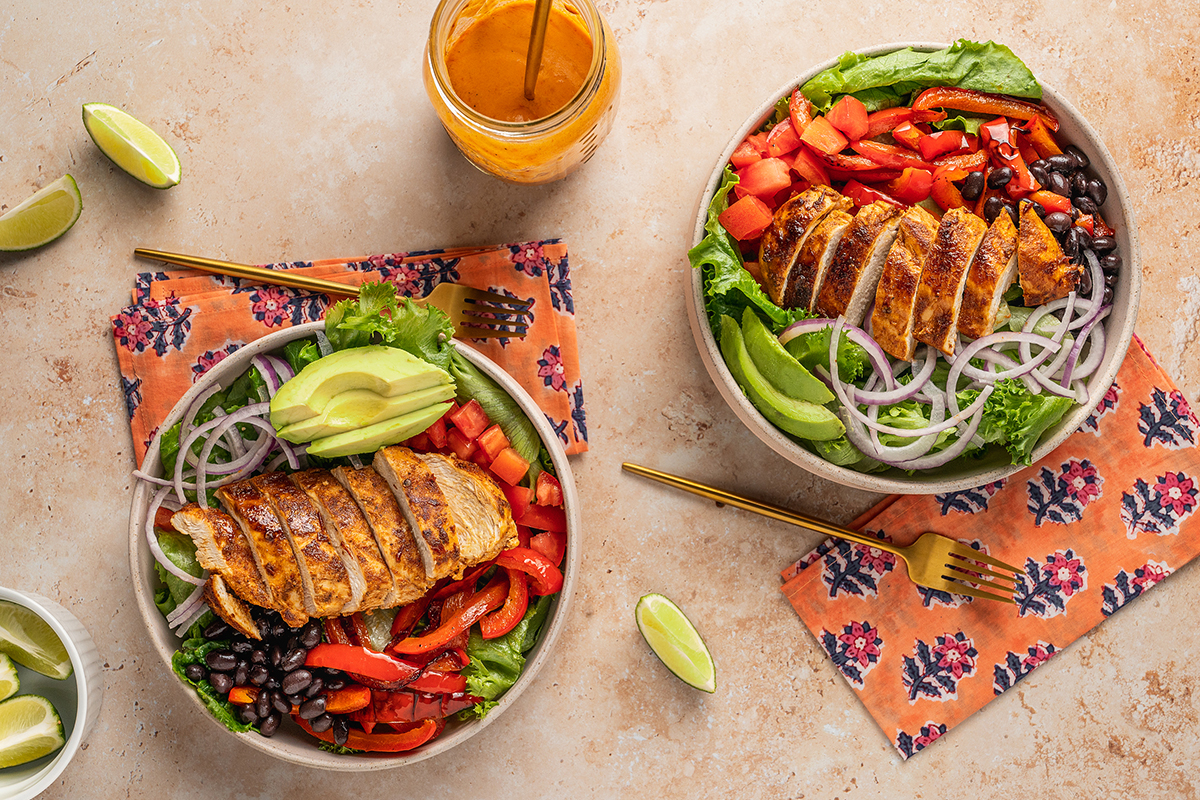 Chipotle chili peppers are ripened red jalapeños that are then smoked and dried, and besides being delicious, they're surprisingly good for you. Chipotles are considered to be medium-hot on the Scoville scale, a bit spicier than mildly hot fresh jalapeños. This is because drying the peppers increases the concentration of capsaicin, the compound found in chili peppers that makes them taste spicy. Capsaicin is also known for its anti-inflammatory properties which can promote heart and joint health.
In addition to their health benefits, chipotle peppers offer a ton of deep smoky savory flavor which pairs perfectly with chicken. The creamy chipotle salad dressing is made with nonfat yogurt for a lighter option that balances a little of the spiciness. Using yogurt in the dressing offers a creamy texture and complementary zingy flavor similar to sour cream but lower in fat.
This chipotle chicken recipe is great for meal prep! You can make a big batch of chicken and use it for salads throughout the week. Besides salads, you can also use the chicken in protein wraps, burrito bowls, or served on a plate with a side of quinoa and black beans. It's super versatile and switching up the meals a little each day will give you plenty of variety to work with.
While not a hard rule, nutritionists typically agree it's a good rule of thumb to have a lot of different colors on your plate. And this salad delivers! The black beans are high in fiber, which helps lower cholesterol. Red peppers are a great source of vitamins A and C which support the immune system. And avocados are a nutrient-dense superfood, full of potassium, vitamin E, magnesium, and more. Basically, this salad is full of nutrients, vitamins and antioxidants from all the different vegetables and legumes that offer a wide range of health benefits.
This salad recipe is relatively high in protein, low carb, and also happens to be 100% gluten free. If you're following a special diet like keto or dairy-free, this flexible recipe can easily accommodate substitutions. Leave out the black beans for a keto diet or make the salad dairy-free by omitting the cheese and using a dairy-free yogurt alternative in the dressing.
Whatever your health and fitness goals, this chipotle chicken salad will give you the fuel you need to make it through your workouts feeling strong and energized.
Chipotle Chicken Salad Recipe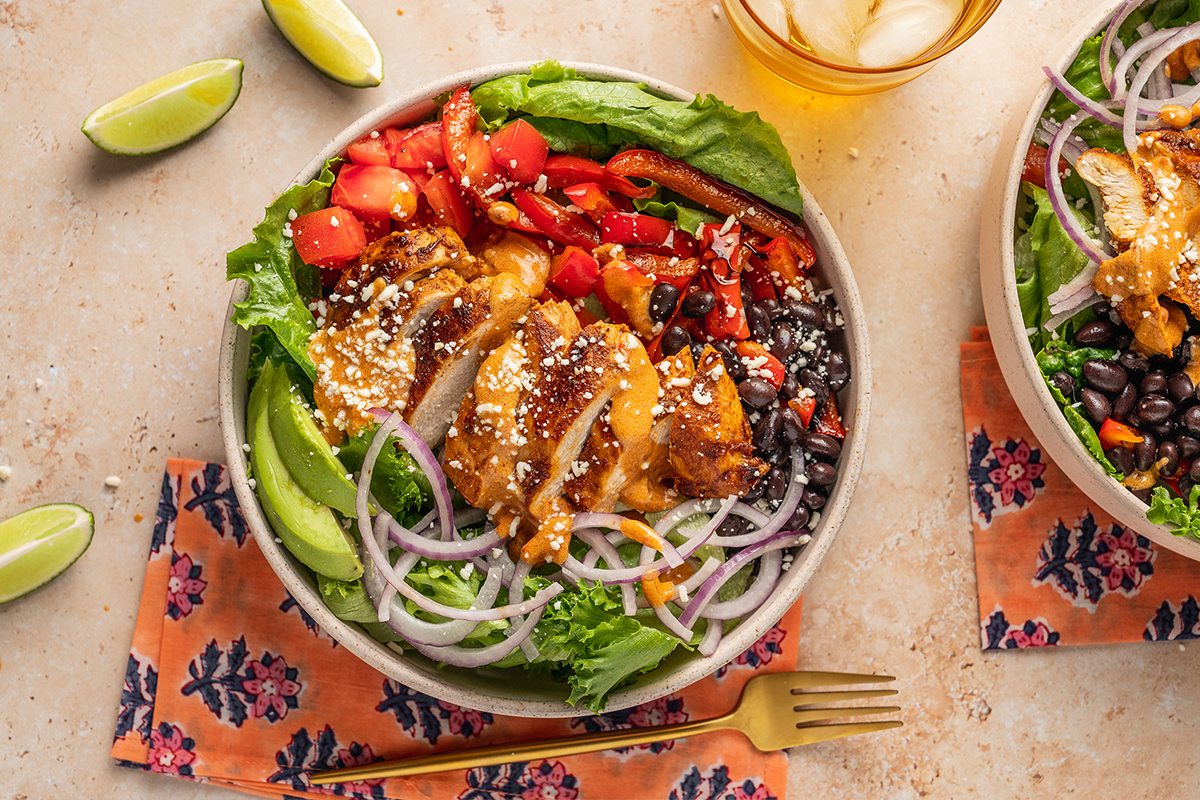 Yield: 2 servings
Prep time: 35 minutes
Cook time: 20 minutes
Ingredients: Chipotle Chicken Marinade & Salad Dressing
2 chipotle peppers in adobo sauce + 2 tbsp adobo sauce
4 tbsp. extra virgin olive oil
½ tsp. chili powder
1 tsp. paprika
½ tsp. cumin
1 tsp. garlic powder
2 tsp. lime juice
½ tsp. kosher salt
¼ tsp. black pepper
2 chicken breasts (8 oz. each)
6 tbsp. plain nonfat yogurt
Ingredients: Chipotle Chicken Salad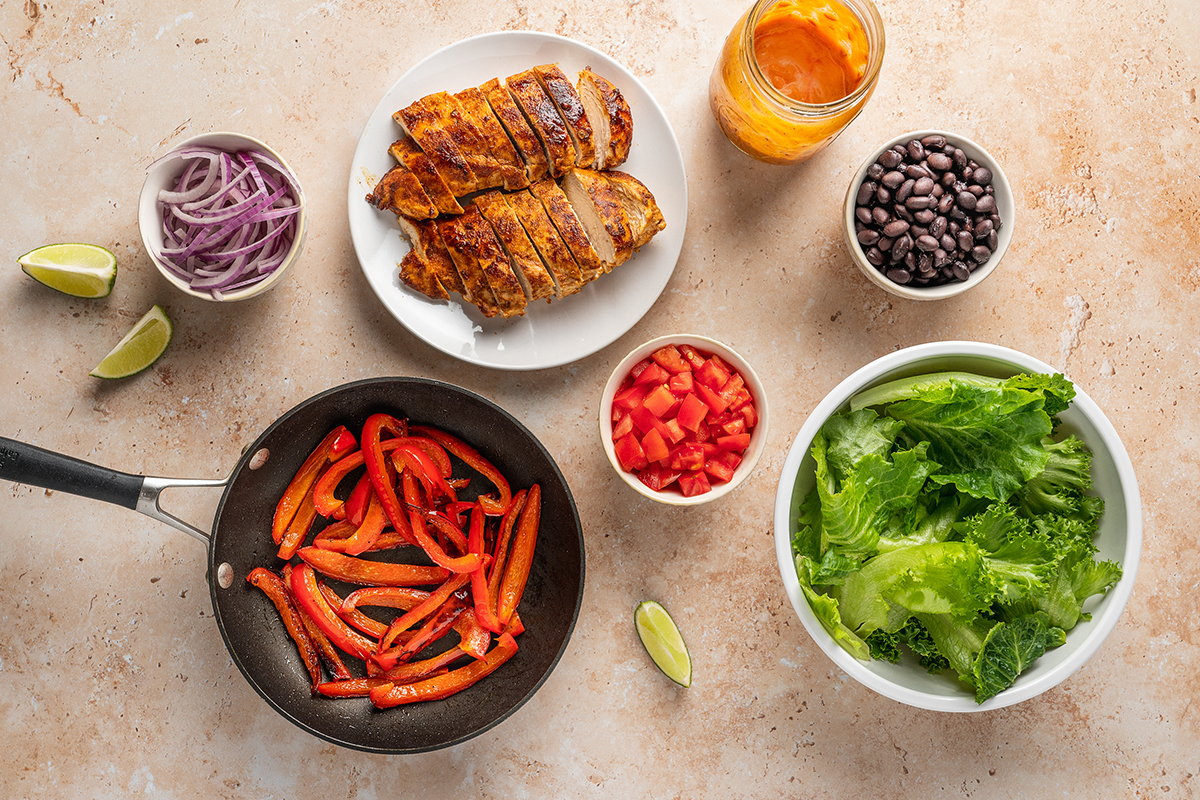 2 tsp. olive oil
1 red bell pepper, thinly sliced
4 cups mixed greens
1 tomato, chopped
1 red onion, thinly sliced
½ avocado, sliced
½ cup canned black beans, drained and rinsed
2 cooked chipotle chicken breasts (recipe above)
½ cup chipotle salad dressing (recipe above)
2 tbsp. cotija cheese (optional)
1 lime, cut into wedges
Instructions
Make the chipotle salad dressing and marinade:

Combine the following ingredients in a blender: chipotle peppers and adobo sauce, olive oil, chili powder, paprika, cumin, garlic, lime juice, salt, and pepper*. Blend until smooth. Then take half of the mixture (3 tbsp.) and rub over the chicken breasts to marinate. Cover and refrigerate the chicken for at least 30 minutes (up to overnight). To make the salad dressing, combine the remaining chipotle mixture (3 tbsp.) with the yogurt and whisk until smooth. Add up to 1 tbsp. of water for a thinner salad dressing consistency.

Cook the chicken:

place a large skillet over medium heat. Add the chicken and cook for about 7-8 minutes on each side (or to an internal temperature of 165 °F). Let cool for 5 minutes, then slice into bite-sized pieces.

Sauté the red peppers

: set a small skillet over medium heat and add 2 tsp. of olive oil. Add the red peppers and cook until slightly softened and beginning to char. Remove from the heat and let cool slightly.

Assemble the salads:

split the lettuce, tomato, red onion, avocado, black beans, and sautéed red peppers equally among 2 bowls. Place the cooked chipotle chicken on top, then top with the prepared salad dressing and cotija cheese (optional). Serve with lime wedges.
*If you don't have a blender, finely chop the chipotle peppers and mix all components by hand.
Storage Notes
Store the leftover chicken, salad dressing, and salad components separately.
The cooked chicken and salad dressing will last for 3-5 days in the refrigerator.

To keep lettuce fresh and crisp, store washed lettuce leaves in a ziptop bag lined with damp paper towels.