The Reason Why You Need a Smart Home Gym
Oct 28, 2022 by Speediance
Have you ever thought of ditching the gym membership and building a home gym in your house? Save all the commute of a car or public transit ride to the gym, and make staying socially distant much easier. When we discussed "home gym," a picture came to our mind of a space full of bulky machines and weights, laying around the floor disorganized and messy, leaving no room for your feet to land.
However, in the post-epidemic era, the rapid development of smart home gym equipment has changed how people think about home gyms—making at-home training more simple, convenient, and efficient. Now you are looking for smart home gym equipment for your home? Here's what you get to know.
What is smart home gym equipment?
At-home workout equipment features much smarter and smaller than traditional ones, with a bunch of advanced technologies utilizing—such as digital weight, 3D sensor, massive touch screen, data collection, third-party app & device linkage, voice assistant, intelligent algorithm, and workout library, etc. All these functions, benefits, and intelligence elements integrate into one compact, sleek machine.
From mirrors, high-tech bikes, and rowers to all-in-one workout machines, these smart home gyms stream live or on-demand classes, track your reps and body stats, and suggest your real-time weight adjustment and form corrections, just like there is a world-class trainer in your living room.
Smart home gym equipment has played an essential role in the changing landscape of the home gym as people realize its sheer convenience—saving you time, tracking your training steps, and making your workouts more versatile.
The benefits of smart home gyms
Time-Saving: One of the best things about having smart home-gym equipment is saving your time and available 24 hours. You can work out any time you like, need not be vexed by traffic or nasty weather, holding all the long commutes and waiting for equipment to be available.
Scheduling Convenience: Exercising on home gym equipment, you can accommodate your schedule in workouts, make choices based on your goals, and be in the comfort of your private home enviroment.
Versatility: If you want full-body muscle training but in a limited space for a handful of cumbersome machines, a smart home gym with an all-in-one design can help solve the problem. With just a single device, you'll get what you want.
Cost-Effective: When you invest in smart fitness equipment, you'll save money on gas or tolls on the way to the gym and the cost of a gym membership.
Pro-level Guidance: Live and on-demand classes provide expert-level coaching on many training categories—like strength training, building muscle, shaping, weight gain, and cardio, saving you from scrambling to curate what to do today.
Space-Saving: Smart gyms don't need a bunch of machines to achieve full-body training, so it takes up less space. Some are foldable and only take up the area of a chair.
Training at home asks you to fight the procrastination and instant gratification monkey hiding in your heart. Still, the smart home gym equipment makes it easier to stick to your workout routine and get more motivated. It can provide at-home workouts with all categories, curate workouts and plans for your schedule, track your performance, and adapt to keep up with your fitness gains, which creates an immersive vibe for at-home training.
Why Speediance stands out from all this options?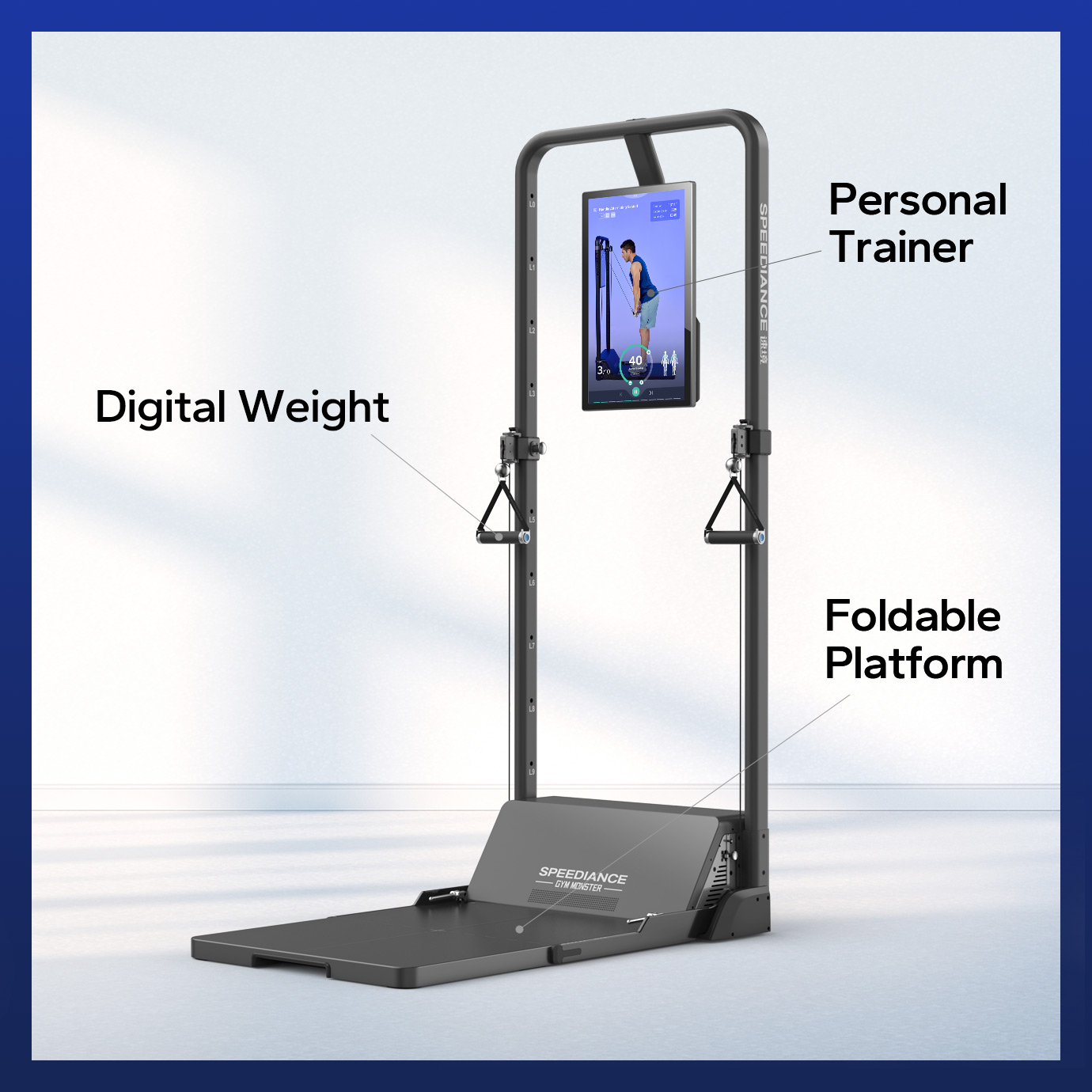 Speediance is a compact smart home gym with an all-in-one design and a foldable platform, which not only saves your space but also makes storage easy. Up to 220 pounds of digital weight and two adjustable pulleys, it creates versatility and integrates all the benefits that a gym or fitness studio features into one sleek device.
Stable Digital Weight
What makes speediance stand out from other same-category gyms is its digital weight, coming from our cutting-edge Direct Drive Technology, which means the motor is coupled directly to the load; this increases the precision and stability of the load output. Eliminating the use of transmission or gearbox also grants high durability, quiet operation, and a very high system lifetime.
Direct drive motor in the form of two cable pulleys offers a max resistance of 220 pounds. Each cable has a max weight of 110 pounds; it operates on a 1:1 ratio. You can adjust the weight as precisely as 0.5kg at a button on the screen.
One Machine = One Gym
The most ingenious design of Speediance GYM MONSTER is the all-in-one structure, with two adjustable pulleys, transferring this single machine into a Rower, Ski Machine, Smith Machine, Cable Machine, adjustable dumbbells, kettlebells, barbells, and weight plates, which basically fit all of the necessary equipment in one room. Instead of going to the gym, the versatility allows you to achieve The Big 3——squat, press, deadlift and full-body training at home.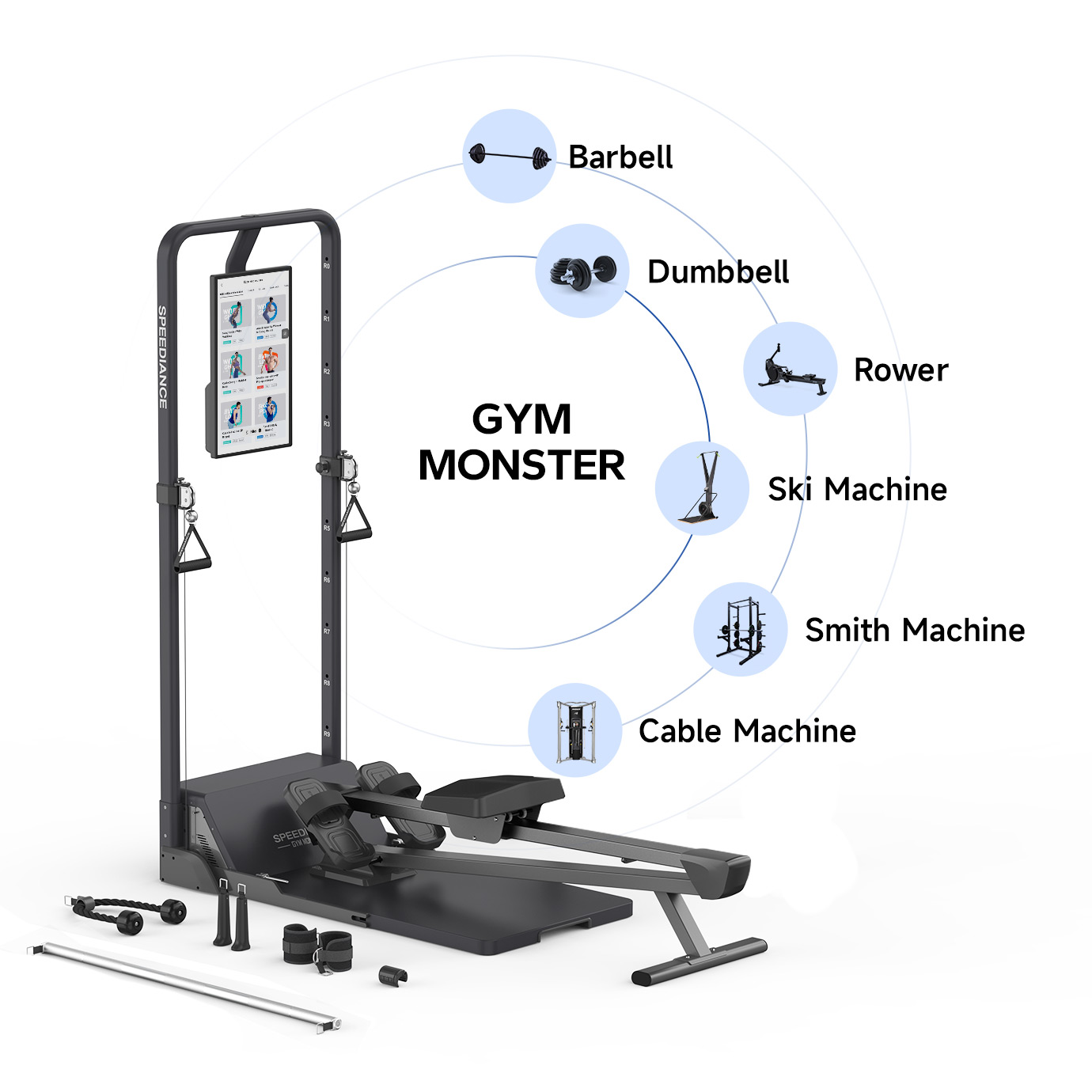 4+1 Dynamic Weight Mode
Speediance tracks your speed, resistance, and force, so it can tell when you are struggling, when you need to push yourself harder —and when you're more vital than ever. It will temporarily help you reduce the weight when you feel sluggish (Spotter Mode); It can isolate the phase of movement and progressively add weight as you approach the top of the motion (Chains Mode) or during the negative portion (Eccentric Mode); It can also set a constant speed for you throughout the movement (Constant Mode); If you don't feel like the dynamic weight, try Standard Mode.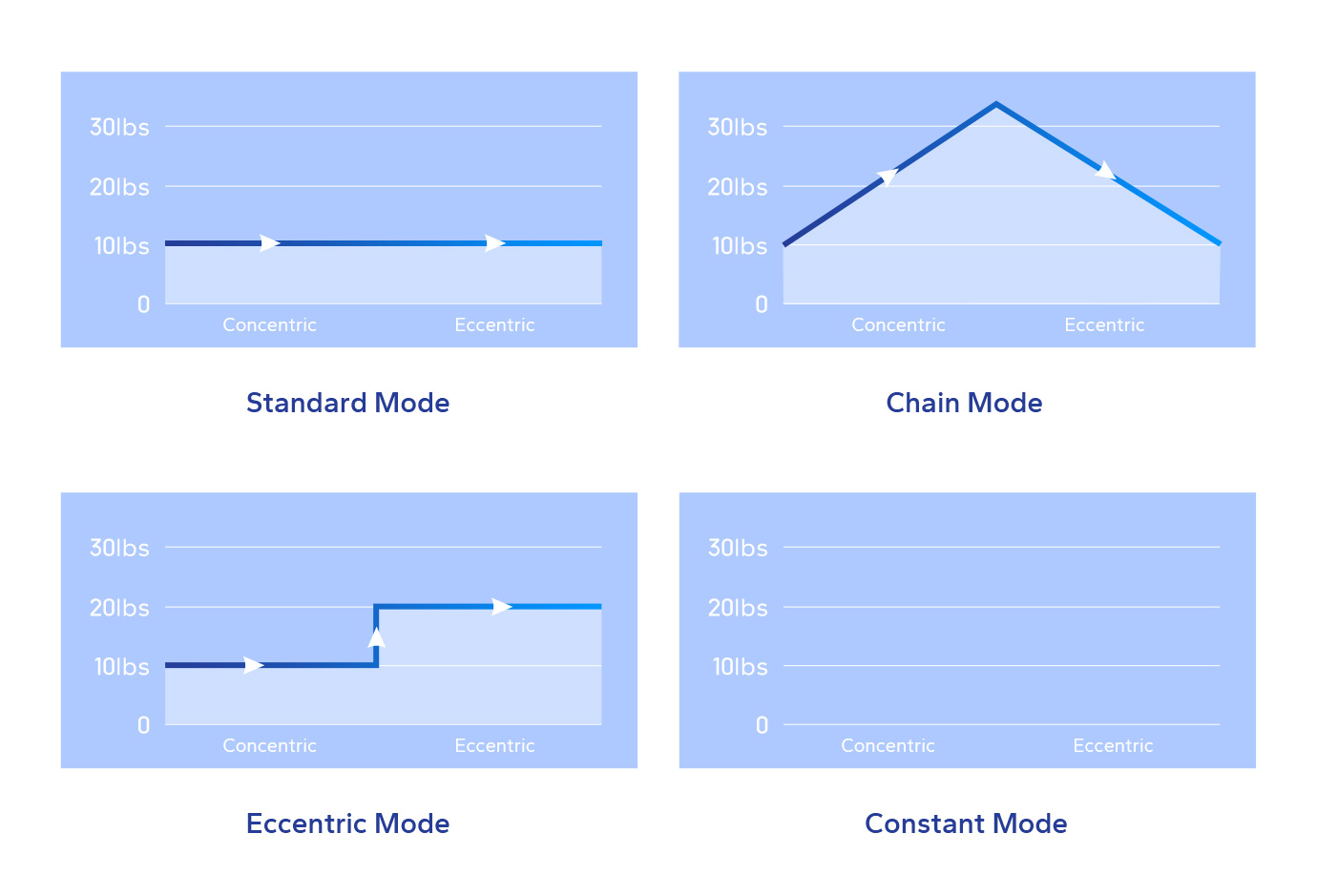 Your Personal Trainer
It has a well-organized movement library with various categories, including Gain Strength, HIIT, Bodyweight, Shaping, Cardio, Sport-Specific, Stretch, Quick-Fit, and the special-designed Rehab Training co-developed with European rehabilitation center - Dr. Bubnovska Centrs. With all this diversity, you're unlikely to run out of options.
Additionally, all the movements and workouts are categorized by experience level, target muscles, and intensity. Weekly and monthly programs are well-curated, saving you from struggling with what to do, and you can also customize a workout template for your specific goals.
Speediance is like a 24-hour-on-call personal trainer in your home, assessing your strength, selecting your weights, recommending home workouts and programs that fit your goal, tracking your reps and sets, and helping crush your goals in a smarter way.
Smart home gym that needs no assembly
The actual Speediance itself does not require any assembly, and it will appear in your house in a folded condition. So when you receive the package, no drill, wall mounting, or complex assembly is required; just unbox your equipment, and you're free to go. (Aside from the weight bench and optional rowing bench). When you move into a new home, fold it, pack it and take it with you.
When folded, it takes up hardly any space in your space—3.5 ft² / 0.3 m². If you are worried about occupying much more room when fully and adequately working out in your area—10 ft² / 0.9 m² is enough for all the movements. A set of wheels on the base make storage a breeze.
What Did Customers Say about Speediance?
"I was in the middle of a high volume program when Speediance arrived and I've transferred it over seamlessly. I have to say hats off to the team, for a brand new product, fresh out of the box, and essentially understanding early adopters are a next level beta test, they've created something excellent. Worth the $ and worth the wait in my opinion."
—— Michael Epsenhart
"I had owned a lot of smart gym equipment l but I can say this is definitely far better than them. It is portable, strong and durable. I can use my own incline bench , my own attachment as I was given for 4 attachment clips. The after sale support was fast and excellent. The set up was easy and also most important, I cut my training time for at least 50% and faster to get failure. This is my favorite equipment, even if it costs me 10k I will also buy it."
—— Nicholas
"The adjustable pulleys alone were a huge reason to buy. The interface is very nice and user friendly. It's actually larger than I thought based on other pictures. It seems well built, and I am happy with my investment."
—— Kade McBride
"The handles move nice and smooth in and out of the channel if you're not aware releases and then goes down to the channel so you could do squats and curls ect. The rest of the mechanisms move nicely up and down just like you would expect in good quality gym equipment."
——Steven Ng
"Display Flips - when doing bench press with 180° screen flipping and graphics as well. Speediance Quick Pointer (able to move at any sideways) - easy access for display light, volume, Bluetooth, Sleep Mode, Wifi, Logout (switch account)"
——Stanley LM