Transform Your Fitness Routine with the Space-Saving Speediance Gym Pal
Jun 15, 2023 by Jessica Baron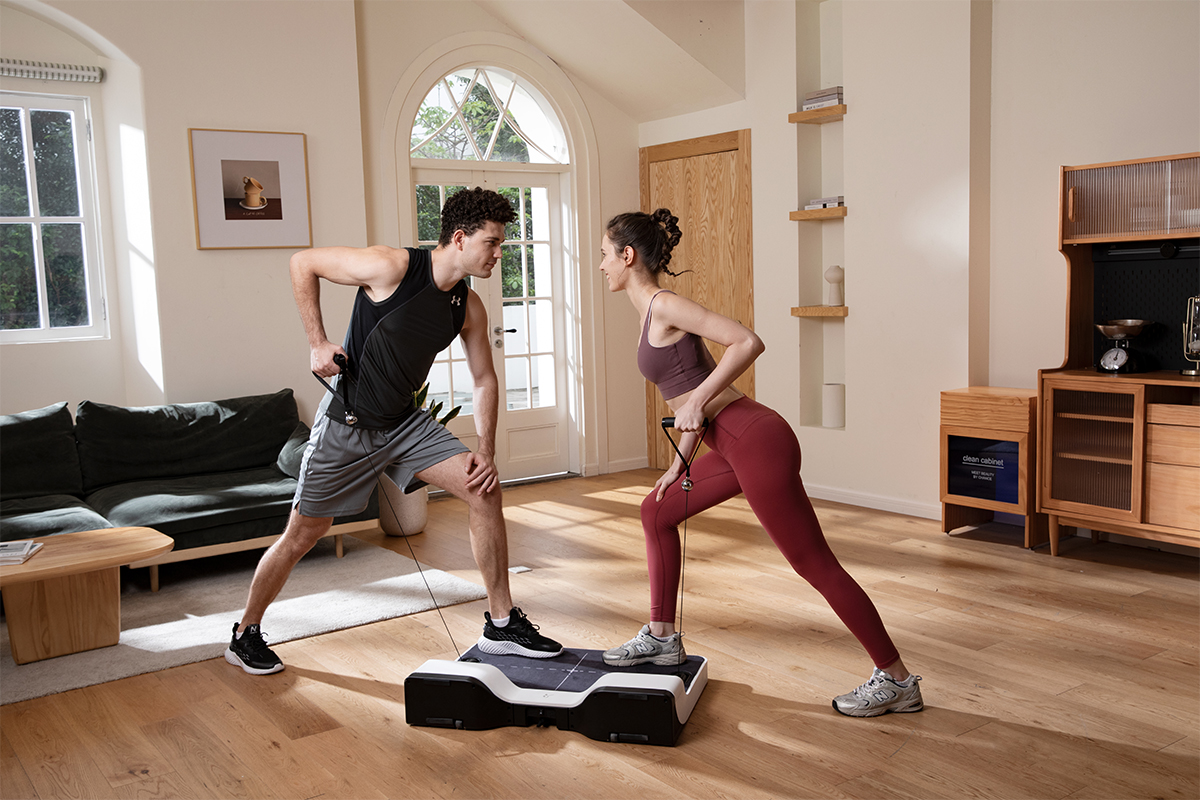 As our lives become increasingly busy, it can be hard to find ways to keep up with our health and fitness goals. But a new breed of space-saving home gyms is revolutionizing the way we work out.
Speediance's new Gym Pal is a cutting-edge, compact piece of fitness equipment designed with the modern fitness enthusiast in mind. And it's the perfect example of a small-footprint home gym that effortlessly blends convenience, versatility, and innovation. Despite its modest size, this dynamic device provides a comprehensive workout solution right in the comfort of your own home.
Several factors make compact home gyms a worthy investment. The most notable is their space-saving design, ideal for small apartments or homes. The convenience they offer is unparalleled since you no longer have to navigate the hustle and bustle or anxiety of a commercial gym, wait your turn for equipment, or adjust your schedule to accommodate gym hours.
Below, we'll see just why the Gym Pal is the ultimate piece of home fitness equipment and how it can motivate you to get in the best shape of your life.
The Ultimate Compact Home Fitness Solution
The Gym effortlessly merges functionality and aesthetics. It features a sleek, compact design with a small footprint that perfectly suits small apartments, offices, or any home fitness space.
But don't underestimate its prowess based on size. Gym Pal is a potent and flexible fitness apparatus offering a complete, full-body workout. Its trailblazing design features adjustable resistance levels up to 220 pounds, adaptable to your strength, enabling a wide array of exercises, ranging from strength training to cardio and beyond.
The robust frame of Gym Pal is crafted from durable, heavy-duty carbon structural steel, ensuring the product's longevity. For superior comfort during your workouts, it features a high-density foam seat and backrest, adjustable to cater to varying heights and body types.
Gym Pal's clever design further includes an advanced cable and pulley system, matching the functionality of larger, traditional gym equipment. This system guarantees a smooth and efficient exercise motion range, reducing injury risk and facilitating good form.
High-Tech Features
Gym Pal's tech-forward features also include a dedicated app and both Wi-fi and Bluetooth connectivity so you can track your progress, get personalized workout recommendations, and view instructional videos for each exercise from your phone or cast the information to a larger screen.
And there's an additional smart accessory that sets Gym Pal apart from other fitness equipment on the market - the Speediance Bluetooth Controller Ring. This unique device has been thoughtfully designed to enhance your workouts and provide precision weight control at your fingertips. Its sleek knob design enables users to adjust weight resistance levels with just a simple twist. This means that during a workout, you can effortlessly modify your training status to match your strength levels or the exercise type, allowing for a highly personalized workout experience that makes it easier to progress and challenge yourself as your fitness levels improve.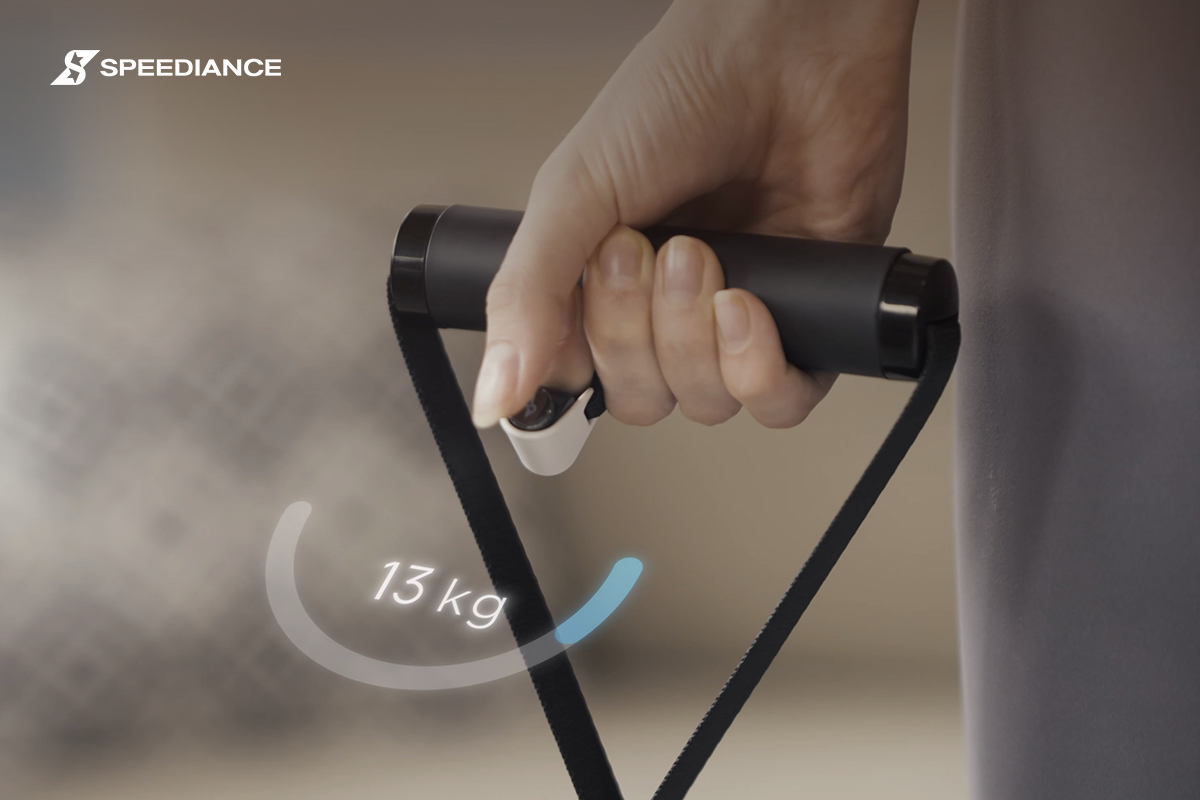 Designed for Small Space and Big Gains
Gym Pal expertly integrates into any living space without compromising on functionality or performance. Its footprint, less than 5.1 square feet, allows it to snugly fit in the corner of your bedroom, living room, office, or hallway, essentially turning any space into a potential personal fitness area.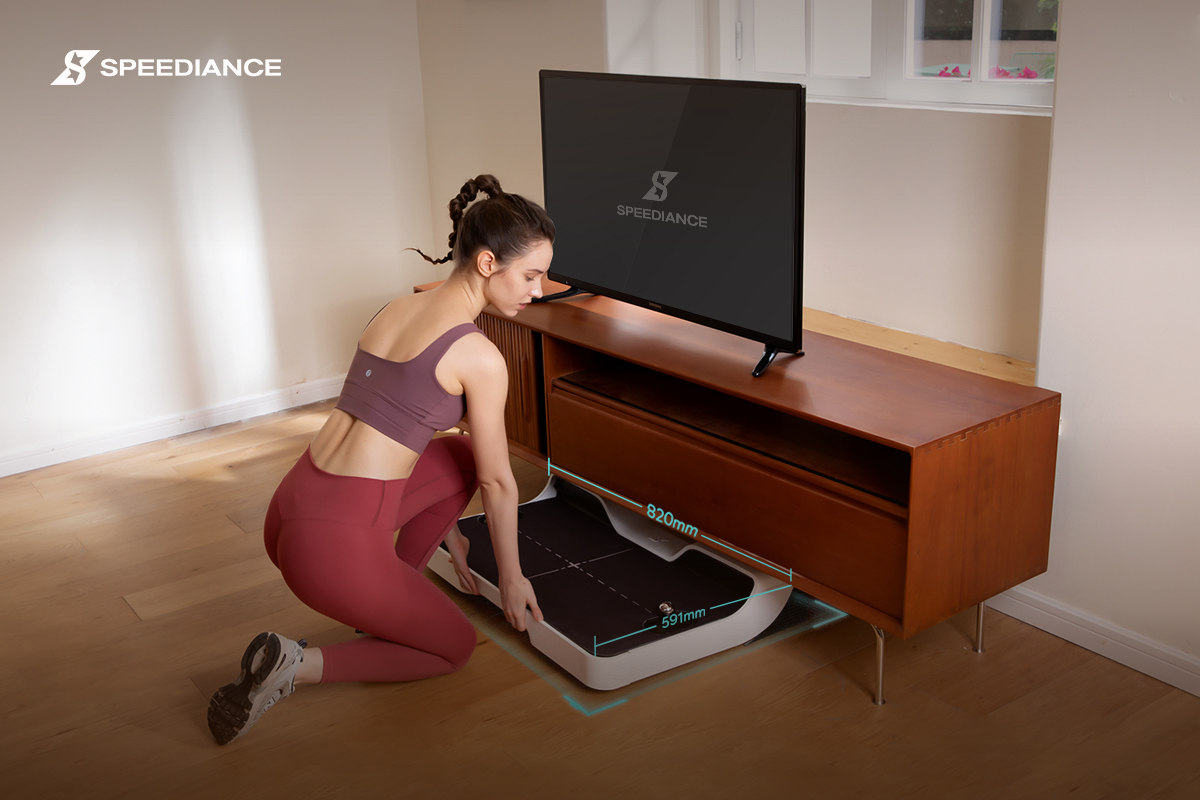 The Gym Pal's design also prioritizes flexibility when it comes to storage. Whether you prefer to store it horizontally or vertically, the Gym Pal can accommodate with its dimensions of 32" x 23" horizontally or 32" x 6" vertically. This design flexibility ensures that it can be conveniently stored away when not in use, freeing up your space for other activities.
Despite its compact design, Gym Pal doesn't compromise on the quality of the workout it delivers. It can seamlessly facilitate a wide range of exercises, making it just as effective as larger, more cumbersome gym equipment. Despite its power, it weighs just 55 pounds, making it manageable to move around as needed.
In addition, Gym Pal's design is modern and minimalist, adding to any room decor. This thoughtfulness in design detail makes it a fitness system that enhances your home aesthetics rather than something you'd want to hide away.
With its compact size, intuitive design, and adaptability to any home environment, the Gym Pal proves that you don't need a dedicated gym room or forfeit living space to maintain an effective fitness routine.
Revolutionizing Workouts: Training Modes and Features
According to Rachel Wilson, a physical therapist at Harvard-affiliated Brigham and Women's Hospital:
"People do what they enjoy, or what feels the most effective, so some aspects of exercise and fitness are ignored."
Harvard Health notes that "we tend to limit ourselves to one or two types of activity…" when "we should all be doing aerobics, stretching, strengthening, and balance exercises."
Luckily, the Speediance Gym Pal offers diverse training modes, covering everything from cardio and strength training to yoga and stretching, making it the ultimate holistic fitness machine. With this level of versatility, Gym Pal ensures each workout is comprehensive and balanced, targeting all significant muscle groups, boosting cardiovascular health, improving flexibility, and enhancing overall well-being.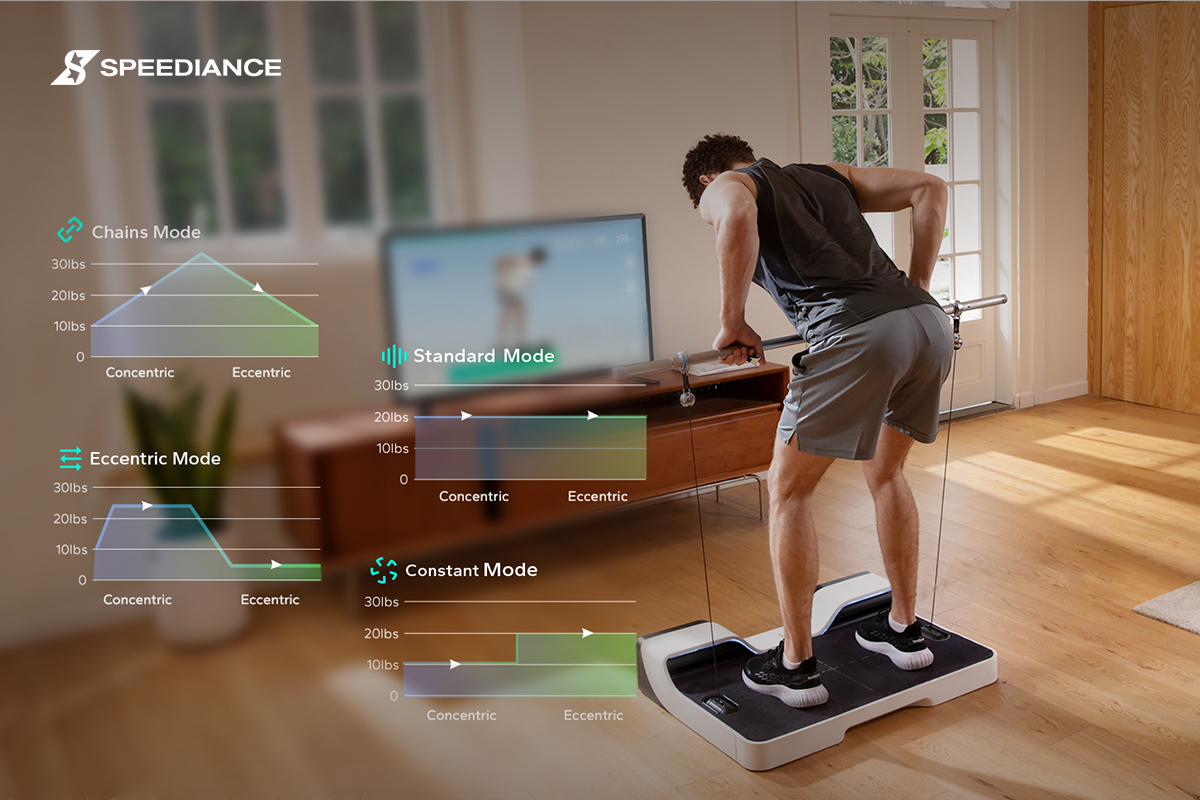 Further enhancing Gym Pal's functionality is its dedicated app. With Wi-Fi and Bluetooth connectivity, the app offers a plethora of workout programs and personalized suggestions based on your fitness goals. It also provides instructional videos for each exercise, ensuring correct and safe execution. This guidance is invaluable for novices and beneficial for seasoned fitness enthusiasts seeking to diversify their workout routine.
A Holistic Approach to Fitness
The Gym Pal's role in promoting overall wellness is a pivotal part of its appeal. By offering a variety of training modes, it enables you to maintain a balanced fitness routine that includes strength training, cardiovascular exercises, flexibility enhancement, and more. With its innovative design and advanced technology, it eliminates the need for multiple fitness equipment, thus providing a more holistic approach to health and fitness.
Additionally, the Gym Pal acts as a catalyst to motivate users to maintain regular workouts. Its personalized workout recommendations, real-time progress tracking, and the plethora of instructional videos on the companion app make it easier than ever to stay committed to your fitness goals. The advanced features of the Gym Pal work collectively to create an environment that keeps you engaged and motivated, facilitating consistent progress toward your health and fitness objectives.
The Future of Fitness is Compact
As we look towards the future of the fitness industry, compact home gym equipment like the Gym Pal is set to play a significant role. With increasing demands on our time and the need for convenient, flexible workout options, compact and versatile home gym systems are fast becoming the preferred choice for many.
Embracing a home workout solution like the Gym Pal doesn't just mean investing in a piece of fitness equipment. It means investing in your health, wellbeing, and quality of life. It means creating a personalized fitness environment that adapts to your lifestyle, schedule, and fitness level. And it means reaping the benefits of regular exercise without the need for a dedicated gym room or a costly gym membership.
The Gym Pal proves that big workouts can come from small packages.